ABOUT
INJEXED Med Spa, Frisco tx
WHO WE ARE
If you're searching for the best in medspa treatments, look no further ...
Our boutique and family-owned med spa in Frisco is your one-stop destination to keep you looking and feeling beautiful with painless laser hair removal, Botox and fillers, luxurious laser facials or hydrafacials, plus Medical grade skincare products!
Our med spa is committed to providing an unforgettable experience of luxury and excellence.
With one-of-a-kind service from our knowledgeable experts, you'll leave looking and feeling your absolute best - just check out all the 5-star reviews for confirmation!
We can't wait to see you soon!
OUR SPACE
Let us treat you to a VIP experience!
Our chic and modern med spa is nestled in the heart of Frisco TX near Preston Rd, and designed for maximum comfort.
Relax with some wine or champagne while our experienced staff uses cutting-edge treatments tailored specifically to your needs - promising visible results so that when you leave there's no denying it was worth every minute!
Whether from across town or around the corner, we're looking forward to seeing YOU soon…
Our TECHNOLOGY
Our trained nurse injectors and clinicians use only the most modern, cutting-edge treatments to ensure you get optimum results.
Our Motus AZ+ laser hair removal machine provides fast and painless laser hair removal solutions
Our Skinwave hydrafacial device provides the best hydrafacial experience
Our MircoEvo pen gives the best Microneedling treatments
You can rest assured knowing that your treatment is in experienced hands using the best technology available.
OUR MISSION IS TO "To create a fun and phenomenal client experience with superior service, expertise, and amazing results."
A Different Approach
We dedicate ourselves to providing an exceptional experience with every treatment - from laser hair removal and botox services to skincare products.
With our 5-star reviews backing us up, you can rest assured that your expectations will be exceeded! We're committed not only to helping you look great today but for life; join the family of satisfying clients at INJEXED who trust us as their one-stop shop for everything filler, skincare, and more.
Experience it yourself: a promise made is a promise kept.
OUR CORE VALUES
At INJEXED, it takes more than just the right people to make a successful team - we want everyone completely invested in delivering top-tier service. That's why our core values are essential for creating an environment of collective excellence!
1. Have Fun 2. Customer First      3. Learn and GROW  4. Be kind                  5. Win as a team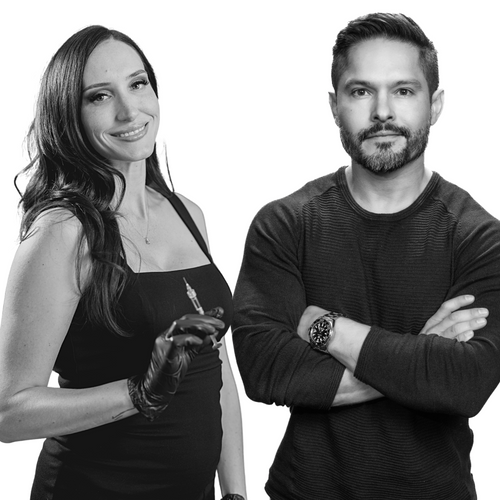 CO-FOUNDERS: LaDelle and David f maez jr
After a hard day's work in the field of medical aesthetics, LaDelle and David decided to make an ambitious venture into owning their own med spa.
From that initial glass-of-wine conversation came INJEXED--an innovative "medbar" concept designed with providing quality services and experiences as its top priority.
And thanks to it being located conveniently in Frisco, this dream is quickly coming true! With more plans for additional products & services on offer soon enough, there's never been a better time or place than now at INJEXED.