Glo2 Facial Machine
Redefining the facial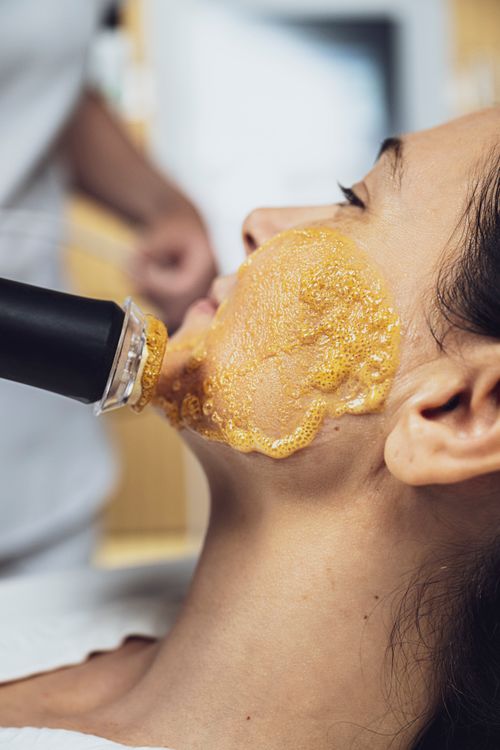 Introducing the Glo2Facial Machine by Geneo: Revolutionizing Skincare
Step into the future of skincare with the Glo2Facial Machine by Geneo. This breakthrough innovation harnesses the body's natural capabilities to rejuvenate, refresh, and redefine your skin's potential.
Oxfoliation: Dive deep into the magic of Oxfoliation. The Glo2Facial OxyPods, when combined with our specialized Primer Gel, meticulously exfoliate your skin. This interaction produces a unique CO2-rich bubbling effect. Your body's reaction? A rush of oxygen to your skin, laying the foundation for skin transformation from within.
LUX Experience: Step into the soothing vibes of the Lite Ultrasound experience. These gentle micro-vibrations refine your skin instantly and enhance the skin's protective layer's permeability. This means all the essential nutrients are absorbed more efficiently.
DETOX: Feel the serene embrace of our hands-free lymphatic massage. It's not just relaxation; it's transformation. Witness an immediate reduction in skin redness and puffiness, while the active ingredients penetrate deeper, sculpting a more radiant you.
Custom Treatments Tailored Just for You
Balance Treatment: Ideal for those with oily or acne-prone skin. Dive into the healing embrace of Geneo Balance, loaded with anti-bacterial elements that cleanse, treat acne, and control oil for a refreshed look.
Detox Treatment: Crafted for skin exposed to environmental factors. Experience the protective shield of Geneo Detox, combating environmental irritants and rejuvenating irritated skin.
Glam Treatment: Combat early signs of aging with Geneo Glam. Boost your skin's collagen, improve elasticity, and unveil a supple texture.
Hydrate Treatment: Designed for dry, lifeless skin. Let Geneo Hydrate replenish moisture, enhance firmness, and fortify your skin barrier.
Illuminate Treatment: Say goodbye to pigmentation issues. Geneo Illuminate works wonders in evening out skin tone, reducing hyperpigmentation, and bringing a youthful glow.
Retouch Treatment: Capture perfection with Retouch. Ideal for skin that's seeking a radiant, photo-ready finish. Minimize fine lines, smoothen textures, and correct those pesky blemishes.
Revive Treatment: Crafted for mature skin, Geneo Revive is the solution to fine lines and uneven textures. Revel in improved elasticity, reduced sun damage, and a smoother skin appearance.
Each treatment promises a tailored journey, catering to your unique skin needs, and ensuring that you always put your best face forward. Experience the magic of Glo2Facial and transform not just your skin, but your life. Welcome to the next level of skincare.