Botox, Dysport, Xeomin
Wrinkle-relaxers available at our med spa in Frisco, Tx
Tox Demystified: The Ultimate Guide to MedSpa Treatments
Dive deep into the world of tox treatments with our comprehensive guide. From the basics to advanced techniques, learn how medspas use tox to rejuvenate and refresh. Whether you're a newbie or a seasoned pro, this video offers insights, safety tips, and a behind-the-scenes look at real procedures. Join us on this transformative journey! Share or follow our channel @injexed
Why Wrinkle-Relaxer
Let's face it ... who doesn't want to drink from the fountain of youth?
We all do ...
And whether you call them wrinkle-relaxers, tox, Botox, Dysport, or Xeomin, we call them awesome!
We can relax the wrinkles on our faces and other areas with toxins and turn back the years of time!
Your Clinician will advise on the best brand of toxin for your face after your first assessment with us at our Frisco location.
Below is an explanation of the three most popular brands of Neurotoxins on the market, but keep in mind your Clinician is trained to advise on the best brand for your treatment.
Here's to being wrinkle-free!
What Areas We Treat
Tox can treat a variety of issues, from the most common crow's feet and forehead lines to:
FROWN LINES
DROOPY EYEBROWS
LIP LINES
GUMMY SMILES
DROOPY SMILES
SHARP JAWLINES
CHIN DIMPLING
LIP FLIP
Ask your Clinician about any other areas you have concerns about. Tox can also be used to treat headaches.
Botox
Botox is the most well-known wrinkle-relaxer on the market. For those old enough to remember, Botox was first introduced into the market in 1989 and changed our society forever er ... faces forever ...
This miracle injectable turn back the clock of aging by "relaxing" wrinkles in the face producing a more youthful appearance.
But contrary to what the media might comedically portray, using Botox does not mean you will look "frozen" or have no movement on your face.
Your Clinician will work closely with you to determine the correct amount of Botox to ensure your wrinkle-relaxer looks natural and youthful without looking fake or frozen.
Botox is an FDA-approved injectable drug (Botulinum toxin type A) that has been used safely and effectively for over 20 years. The effects of the injections usually last four to six months.
Although Botox is the most recognizable wrinkle-relaxer brand, your Clinician will use the product they feel best suits your needs.
To learn more about the many other uses of Botox, click here.
For a free consultation, fill out the form below.
Xeomin®
Xeomin® is a neurotoxin, just like Botox and Dysport, that blocks the release of chemicals that cause muscle contractions and soften frown lines.
Xeomin uses state-of-the-art technology called XTRACT Technology™ that removes unnecessary proteins in the toxin.
When it comes to deciding what brand is best for your wrinkles and frown lines, your Clinician will take into account what you have used in the past and what toxin will work best for you.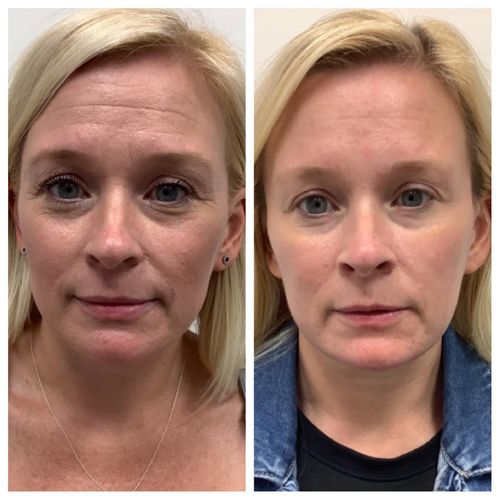 Dysport
At INJEXED, our preferred wrinkle-relaxer is Dysport®. Dysport® is a fast-acting, long-lasting wrinkle relaxer that helps smooth moderate to severe frown lines between the eyebrows.
Dysport® has been approved in 69 countries and has 25 years of clinical experience worldwide. 97% of women who have used Dysport® report they would do it again.
Schedule a consult today to determine which wrinkle-relaxer is best for you.
Tox Testimonials
Good reviews and testimonials matter! Read our 5-star reviews below!
⭐⭐⭐⭐⭐
"I have had a great experience with both my laser treatments and Botox. Laser hair removal is Painless and I'm seeing great results for only doing 4 sessions so far. Ask for LaDelle, she is great and I highly recommend!!
- Amanda Greenberg
Services: Laser hair removal, BOTOX treatments
⭐⭐⭐⭐⭐
"This med spa is my go to! LaDell and her staff are top notch, very educated, and thorough in explaining all services! I have had several rounds of Botox and recently a Lazer facial that was painless and I was able to see immediate results!"
- Gayla Ungerer
Services: Laser hair removal, B-12 injections, BOTOX treatments
⭐⭐⭐⭐⭐
"My first time getting lip filler and botox so I chose to do it at INJEXED and I'm so glad I did! I was so nervous but Ladelle was so amazing and helped calm my nerves and fully explained the process to me and what to expect during and I'm loving the results so far. The rest of the staff is absolutely amazing as well. Had a wonderful facial from Emily and I've had tons of help and support from Shannon. I will be a forever customer! Definitely recommend INJEXED 10 out of 10!"
- Stormi Abbott
⭐⭐⭐⭐⭐
"LaDelle is an incredible injectionist! She talks you through every option and step of the process. I absolutely love my lips and am definitely going back to her for my Botox in a month or two! She's also so fun to talk to and makes you feel completely at ease! HIGHLY recommend!"
- Allison Keck
⭐⭐⭐⭐⭐
"I can't say enough great things about LaDelle and the service I received! This was my first time ever doing Botox so I was a little hesitant. She did a fantastic job of explaining every step and made sure I was comfortable the entire time. The results were amazing! I highly recommended LaDelle, you won't be disappointed!"
- Tami Martins
⭐⭐⭐⭐⭐
"LaDelle is amazing! I have never been so pleased with my results. This was my first time booking with her. I received Botox and lip fillers. I will never go anywhere else. Highly recommend this place!!"
- Sheba Contreras
⭐⭐⭐⭐⭐
"Loved everything about this place.
I had previously gotten my lips done by a surgeon and it was a really bad experience, so I had to really think about it before I got them done again. I don't regret it at all! I felt no pain, only a little discomfort and my lips look amazing! Going back for more.
Oh and I also got botox!
You won't regret it!"
- Veronica Garcia
⭐⭐⭐⭐⭐
"Fabulous first-time experience with lip filler and Botox! The nurse answered all of my questions and put my mind to ease! Loved my results!!!!"
- Stephani Miller
⭐⭐⭐⭐⭐
"This was my first experience with Botox and Ladelle did such a great job!!! It looks so natural and I look so much more rested and younger!"
- Rebekah Stowe
⭐⭐⭐⭐⭐
"I absolutely love the staff at Injexed! I decided to get laser hair removal on my face, legs and Bikini areas. I was nervous, but the staff is incredible and the laser hair removal process is completely painless and the results are amazing!
I noticed results after my first session! I'm on my 5th session and feel so confident in my skin. I am so happy with the results and extremely glad that I decided to do this, but more so, to do it with Injexed.
If you're thinking about getting Laser Hair Removal — do it! You're in good hands here.
As a plus, every procedure is done with precision and care. I've been to here for fillers and botox too. Treat yo self! You'll feel like the best version of yourself every time, no matter what service you receive. It's a vibe!
Do it! Yolo."
- Analisa Garcia